West Midlands mulls giant depots
Controversy is brewing over a call for the West Midlands to host a number of giant warehouses and logistics hubs for supermarkets and large retailers.
The call came in a report prepared for the West Midlands Regional Assembly by a group of consultants.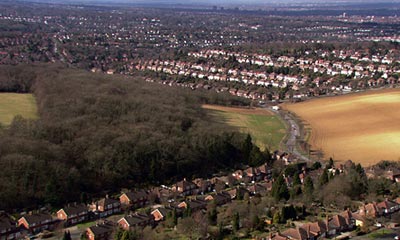 Environmental groups have complained that the buildings, which may be the size of 14 football pitches, could ruin rural areas and boost pollution.
The authority said the concerns were premature as no decision had been made.
Sprouting up
Put together by MDS Transmodal, Savils and Regeneris Consulting, the report recommends that five large freight and storage facilities are built in the West Midlands to drive economic development in the region.
An increasing reliance on imported goods from low-cost producers means that companies are going to have a growing need for storage and distribution facilities.
The sites would provide as many as 20,000 jobs, and should be built side-by-side to facilitate rail access and close to urban areas in order to keep wage costs down, the report said.
The depots would cover as many 200 acres and would operate around the clock, loading and unloading 1,500 lorries a day.
The report reckoned that the best way to use space would be to build multi-storey warehouses, giving them more than a million square feet of floor space. There also would need to be larger outdoor storage facilities.
A spokeswoman for the West Midlands Regional Assembly (WMRA) explained that the report was one of a number being undertaken regarding the region's Spatial Strategy, which looks at how best to use its land and buildings.
Early days
Calling it a first stage, she said that a consultation process with local residents, business and environmental groups would start in the New Year and only after that would any decision be taken on whether to pursue the ideas put forward.
"It may end up being some, a few or none," she told BBC News.
Local council and government planning procedures have been called into question in recent months, amid accusations that authorities have bowed to pressure from companies to approve buildings and relax restrictions.
Gerald Kells, a campaigner for the Campaign to Protect Rural England (CPRE) has attacked the plans.
Speaking to the Guardian newspaper, he said the depots would be eyesores, would undermine attempts to regenerate cities and create problems with noise and light pollution.
"Some of these buildings are huge," he said. "This will undermine greenbelt land. Large-scale warehousing like this can devastate tranquillity, add to congestion problems, and increase greenhouse gas emissions."
bbc.co.uk, 14th Dec, 2005