Suburban garden or brownfield site?
Homes with large plots of land are the latest target for the developers, says Graham Norwood
Brownfield sites sound like the ideal way of preventing the ruin of open countryside — razing old industrial wrecks and replacing them with new housing, without damaging the environment.
But is that what brownfield actually means? Residents of areas with big gardens and detached homes have found — both to their profit and cost — that a garden can be designated a brownfield site as well.
Now a campaign is under way to prevent planning guidelines from being exploited by developers wanting to build high-density blocks of flats in streets previously dominated by traditional family homes.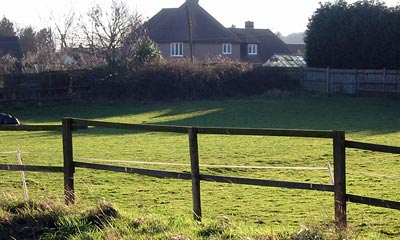 Developers are encouraged by government initiatives — specifically one called Planning Policy Guideline 3 (PPG3) — to build on "used" brownfield sites. These are usually sites left derelict or with redundant commercial or industrial buildings. Conversions of old hospitals, schools and office blocks have been encouraged by PPG3, leading to hundreds of new developments across the country.
But PPG3 also allows building on sites hitherto occupied by houses, or where space permits in the gardens of existing homes. So in many areas, developers have started to buy houses, knocking them down and building scores of flats on the land instead. Bungalows are a particular target for demolition, because they tend to have large garden plots.
This is particularly common in Greater London, the home counties and southwest England, areas where land is expensive. In Surrey, for example — once best known for its commuter-belt houses and mansions owned by Eric Clapton, Mick Hucknall and Ronan Keating, among others — flats are now commonplace.
"The Parkview development in Caterham is a classic example. It replaces four detached houses and gardens with 20 properties: 13 apartments, five townhouses and two detached," says Paul Cooper of Try Homes, which is carrying out the project. He says before PPG3 the site would have been used only for detached and semi-detached houses.
Now Greg Clark, the Conservative MP for Tunbridge Wells in Kent, has introduced a private member's bill in parliament to redefine brownfield land and PPG3. He wants to restrict development on sites of houses and gardens in residential streets.
"Forest Road in Tunbridge Wells is typical," Clark says. "Developers are buying up houses with big plots. They do not buy them just to redevelop the house, because their eyes are as much on the garden as the house itself."
Another high-profile example of this trend is George Wimpey's proposal to knock down four large bungalows and replace them with 27 small flats at Crowthorne in Berkshire, near heathland recently designated a conservation area for endangered birds.
The Crowthorne application was rejected by Bracknell Forest borough council but George Wimpey has appealed against the decision, promising to ban buyers from owning cats in a bid to protect the birds. A decision on the development will be made in May.
Local campaigners, however, say the real issue is not bird protection but the loss of family homes and their replacement by high-density dwellings in a semi-rural area.
Developers say they are often obliged to propose building flats instead of houses because local councils across the UK — which have been ordered to meet government targets for building new homes — frequently reject plans with an insufficient density of housing.
However, flats in residential areas routinely sell for more than those in less desirable former industrial areas. Therefore, most developers prefer to knock down existing homes and build over them, despite having substantial unused land banks.
George Wimpey admits it already owns 14,169 acres of land that it has not yet built on, with enough space for almost 51,000 homes. It refuses to say how much it would charge for the flats it wants to build in place of the bungalows at Crowthorne.
timesonline.co.uk, 26.03.2006