St Albans Green Belt house plan
Residents have vowed to oppose a planned building on the site of a church in the Harpenden Green Belt which they call "a monstrosity".
A proposal has been submitted to St Albans District Council asking to demolish the Kinsbourne Green Methodist Church in Luton Road and build three three-storey terraced properties.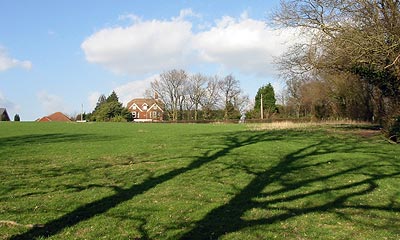 A similar plan was refused by the council last year and the council has posted a sign on the church notice board warning the public that the application is contrary to Green Belt policy.
Next door to the church, built in 1931, lives builder David Wardley who believes the planned houses are completely unsuitable.
"As a builder I think it would be more appropriate to turn the existing church building into flats."
Mr Wardley said: "All the neighbouring houses are of the same height, but the terrace houses that are proposed here are monstrous.
"If they are built they will block light to our house, overlook the houses to either side and look completely out of place in the street scene.
"We opposed the plans last year because we thought they were awful. As far as we can see there has been no change to the plans and so we are confident they will be thrown out again.
Mr Wardley pointed out that the application includes parking at the front of the properties although the land is owned by a local farmer and is not part of the church land.
The application has been submitted by Dr A Lynch, who lives in London.
The agent acting on his behalf is Clark & Whalen, based in Harpenden High Street.
No-one from Clarke and Whalen was available to comment. St Albans District Council has eight weeks to refer the application to councillors.
Alternatively, it can be decided by officers under delegated powers.
St Albans Observer, 19th August, 2004