Shock bid for 40,000 houses
Up to 40,000 new homes could be built in North Herts and alongside Stevenage - half the number which may be earmarked for the whole of the county.
A tide of residential development could sweep west of Stevenage and cross the rural B656 Codicote road which has always been seen as a barrier to new homes.
And Hitchin could get a bypass to the south of the town.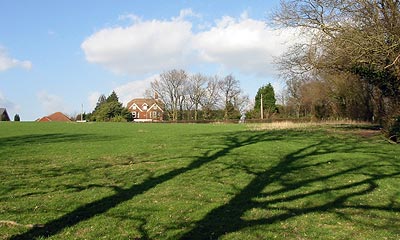 That's the belief of a senior councillor after reading two studies currently looking at sites for housing in the Eastern region.
His shocking conclusions follow in the wake of news, revealed in The Comet in April, that the East of England Regional Assembly has earmarked sites for thousands of homes on the edge of Hitchin, Letchworth, Stevenage and Baldock.
Hertfordshire has already been asked to find 72,000 new homes and now the Government wants an extra 18,000 in the East of England.
Tory North Herts district councillor and Cabinet member Richard Thake believes Hertfordshire will have to find room for 80,000 extra properties by 2021.
And he fears that half of those will be in North Herts based on information emerging from the Buchanan study, looking at the Stansted/M11 corridor which has been extended to include Stevenage and North Herts, and the Roger Tym study. This is probing the Milton Keynes area extending south into Luton.
"The Tym study shows land to the other side of the B656 where they always said they would not go," said Cllr Thake.
"They are looking at a south Hitchin bypass and building on a great chunk of Green Belt land at Royston."
The studies are identifying potential housing sites and examining how practical they would be in terms of supplying services, transport and facilities.
"They are not looking at where villages could or should have more housing. They are not interested in anything less than 500 houses. It's a dreadful scenario," said Cllr Thake.
"The majority of these houses are in the Green Belt or on greenfield sites and are absolutely contrary to the council's current policies and as such this council is bound to resist them.
"Although we do understand there is a need for growth we have our own demand being generated within the county.
"We should not be providing commuter housing for people who work in London."
Cllr Steve Jarvis, leader of the Liberal Democrats on North Herts District Council, said he understood the number of proposed homes was less than 40,000 but 'still very substantial.'
"It is not the sort of number that can be accommodated in this part of Hertfordshire without completely changing it and the Government ought to recognise that and be looking at ways to increase economic prosperity in areas other than the South East."
Labour councillor Martin Stears said he felt Cllr Thake's scenario was 'extremely unlikely'.
"It would be very foolish to play party games," he said. "All parties in North Herts are united against west of Stevenage and other proposals in Green Belt land and around our towns.
The Comet Online, 03.06.2004