Save our village
As protests grow at the Government's plans to build thousands of homes in the South-East, Sarah Lonsdale visits Bapchild, in Kent, where residents fear for the future of the English country life.
The small Kentish village of Bapchild has, on paper, everything it needs to be the perfect community: a beautiful medieval church, a thriving primary school, a pub, a strong parish council and an idyllically situated cricket club surrounded by orchards and meadows. For 40 years it lived side by side with the discoloured concrete slabs, blocks and spirals of what was regularly voted Britain's ugliest building — the Tricorn shopping centre.
However, the reality is not so rosy: and if the local borough council gets its way, the future will be a whole lot worse. Bapchild suffers because of its location on the old London to Canterbury high road and its proximity to the sprawling Medway town of Sittingbourne, which every decade creeps closer to the village, so that now only a couple of fields separate the two.
Even more important, though, is that the village lies within the eastern limit of the Thames Gateway growth area. So whereas villages just a few miles to the east are subject to the normal pressures of housing supply, Bapchild is facing an increase in housing provision that will swallow up the village of 450 homes and leave it unrecognisable from any other suburb of the Medway conglomeration.
A stroll along the High Street today will leave any visitor with a firm impression of what is uppermost in villagers' minds. Posters in windows and placards on wooden stakes all utter similar pleas: "No More Houses!' and "Save Our Village!" At the heart of the protesters' desperation is a feeling that will resonate in every area that has been nominated to provide some of the one million new homes that John Prescott says are needed in the next 10 years. "What we feel most strongly about, quite apart from our specific local arguments, is that this process is riding roughshod over democracy," says Andy Hudson, chairman of Bapchild Parish Council. "There are so many different processes under way - structure plans, local plans, consultation exercises, and odd things like 'preferred additional housing sites' that crop up without warning - that it's like shooting at a moving target.
"Our local councillors on the planning committee tell us they can't help us object to proposals before a concrete planning application is up for consideration. But by the time you get to the planning application stage, it is usually too late to object, because sites have been adopted in various plans."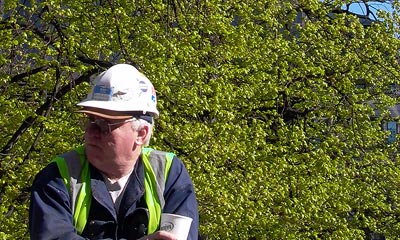 Local MP Derek Wyatt agrees with Andy Hudson. "The whole planning process needs a complete overhaul," he says. "It favours the developer all along the way: the developer always has the right of appeal and can afford an expensive QC at appeals, whereas parish councils and citizens can't." He points out that, while Swale Borough Council proposes 9,100 new homes within its boundaries in the next 10 years, the South-East Regional Assembly is actually proposing far fewer than that in its 20-year plan: 8,300 homes by 2026.
The latest proposals from Swale Borough Council concern the last green fields between Bapchild and Sittingbourne, called Stones Farm, to the north of the High Street. Although the fields earmarked for housing add up to just 45 acres, in their present, pristine state they give the impression, at least, that Bapchild is still a village, protected by the vital "Countryside Gap" between it and suburbia. The borough council has just completed a consultation exercise that proposing 600 new houses on the fields, at densities of up to 100 dwellings per 2.5 acres - on a par with central London rather than rural Kent.
The proposal, which would more than double the size of Bapchild, has united the villagers in shock. "I'm not against the idea of development," says Geoffrey Cooke, who has lived in Bapchild for 51 years, "but it makes me very worried about how the infrastructure is going to cope. We've been battling with a hosepipe ban since the beginning of the summer and if we don't have a wet winter this year we have been told the situation will become critical, yet at the same time they are proposing to add 600 more houses. It doesn't make sense."
He adds that Bapchild's high street doubles as a relief road whenever the M2 has to be closed - a reasonably regular occurrence - and that when this happens, the village can be clogged with traffic for hours.
"What the situation will be like when a further 600 people need to get in and out defies imagination," he says. "In the past, villages like Bapchild grew slowly, over decades, and with growth came services - the church, the pub, the shop, the school. Today planners just dump an extra 600 houses without a thought for how the community is going to cope."
The South-East Regional Assembly's development plan calls for growth "with the effective encouragement and participation of local people", and states that development should respect "a sense of place" and that be on brownfield land as far as possible. Swale's proposals do none of this, say locals.
Brenda Cooke, who has lived in Bapchild long enough to remember horse-drawn carts laden with apples clopping down the high street, says that other new developments have added nothing to the village's sense of community. "I used to know the names of everybody in this village. Now, I can name three people in our street," she says. "The people on the new estates are like rabbits who nip out and up to London, nip back and close their burrow doors tight."
A bigger criticism is that the new plans are for prime agricultural land, when there are plenty of brownfield sites in the Swale area. The borough council is already among the worst-performing authorities within the Thames Gateway area for using greenfield land over brownfield. The current policy is that 80 per cent of new development should be on brownfield sites, but in Swale the figure is only 52 per cent.
"What annoys me is that developers offer sweeteners by saying that if they build so many houses, they will provide so much open space for a park or recreation area," says Bapchild resident Carol Weybourne. "My response to that is that we already have plenty of lovely open countryside that would be ours to enjoy forever, if you are kind enough not to build all over it."
She believes that the Government should rethink its housing proposals completely, and should site homes and employment in deprived regions rather than in the South-East. "In the North and North-West there are vast swathes of run-down Victorian terraces and empty factories just crying out for regeneration," she says.
Mrs Weybourne is still reeling from a letter she received from the council thanking her for her response to their consultation exercise, but saying that her objections could not be accepted under the procedures of their inquiry. "It's impossible to navigate your way through a system like this," says Mrs Weybourne, who works in local government. "To the average person it just feel like decisions are made before you are given the opportunity to comment on them. But," she adds, "if they go ahead and ignore us, and build on that farmland, we are not going to make it easy for them."
Steve Bessant, head of development services at Swale Borough Council, says that the council argued against increasing numbers of houses in the area, but the figure of 9,100 was imposed on it by central government. He adds that the council is not seeking to disenfranchise the local population in any way and that, although the council itself cannot consider objections to the Stones Farm proposals, all objections have been passed to the planning inspector.
"The inspector will be very well aware of the strength of local feeling," he says, adding that the council is "very much signed up to the brownfield site agenda and we would not have suggested Stones Farm as a development site unless all brownfield sites had been exhausted."
telegraph.co.uk, 07.10.2006