Regional panel backs housing development plan
A controversial plan to build 478,000 homes across east England has been given initial backing.
An East of England Regional Assembly panel has backed the plans, which cover an area stretching from Norfolk to Buckinghamshire.
Critics say the new housing would cause significant environmental damage and water shortages.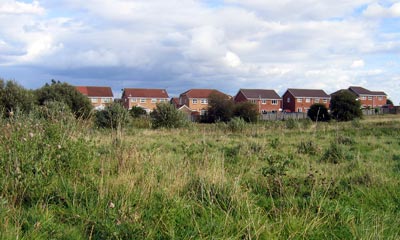 The panel rejected proposals for a further 18,000 homes between Stansted and Cambridge.
"The case has not yet been adequately made for those additional houses," a panel statement said.
Funding plea
It also warned against unsustainable development and called for the government to fund essential infrastructure improvement.
John Reynolds, chairman of the planning panel and a Conservative councillor in Cambridgeshire, said £1.6 billion would need to be spent on infrastructure to make the development sustainable.
"This is a wake-up call to government," he said.
"If the government wants houses, if the government wants development and prosperity for the east of England, it has got to make sure it provides the resources."
But he rejected claims the development would mean the region would be swamped.
"We want to ensure there are homes for people moving to the area and homes for people who are homeless at the moment in the area," he said.
"The aim isn't to swamp small rural communities but hopefully make those communities more sustainable."
The panel decided to hold a review of housing numbers in around three years.
The proposals will still need to be ratified by the full assembly in a meeting on 5 November before going to public consultation.
A spokesman for the Office of the Deputy Prime Minister said it would not be appropriate to comment on the panel's decision until after the full assembly meeting.
The housing is scheduled to be built by 2021, mainly along the M1 and M11 motorways.
Areas expected to take the brunt of it include a 'growth corridor' from Peterborough through Cambridge, Stevenage and Harlow as well as Milton Keynes and the Thames Gateway Development.
The government's plans aim to provide key workers such as nurses, teachers and police officers with affordable housing that is within range of London.
Water fears
The plans have sparked opposition from environmentalists.
They say such a large development could trigger severe water problems - both with the supply of water and an increased risk of flooding where tarmac is laid on existing fields.
They also say wildlife habitats will be damaged and the historic character of many of the region's ancient towns and villages could be altered.
BBC Radio 4 rural affairs correspondent Tom Heap said the feeling of "broad unease" had not grown into angry opposition among residents.
That is because they cannot as yet say "This is going to happen in a field near me," he stressed.
But North Hertfordshire Conservative councillor Richard Thake, who also sits on the panel, said: "People are very frightened indeed about what might come out of all this."
'1% development'
The plans were defended by the minister for regeneration, Jeff Rooker.
He said that even if all the government's housing plans for the next 20 years went ahead, "it would only take 1% more of green field land" for urban use.
However, shadow housing minister John Hayes called that an "extraordinary" calculation that included Britain's national parks and most remote areas.
Ministers are not expected to receive the authority's final recommendations until 2006.
BBC News, 15th October, 2004