Build a million green belt homes, urges think tank
Farm and green belt land should be used to create a million new homes and a hundred thousand hectares of fresh woodland, according to a report that today proposes a radical shake-up in land use.
The study by the Adam Smith Institute claims that much of the English and Welsh countryside is no longer beautiful and should be put to better use.
Many farms are no longer green and use more environmentally damaging chemicals than anywhere else in the world, the free-market think tank says.
Instead, the report suggests that three per cent of the 224,000 farms in England and Wales, including some green belt land, should be converted into 90 per cent woodland and five per cent housing. This would create 950,000 houses within 10 years and address the housing shortage created by an overly bureaucratic planning system and the increase in people living longer and alone.
It also says that there is a "strong case" for the planning system to be abolished and replaced by a free market, itself kept in check by restrictive covenants and nuisance law.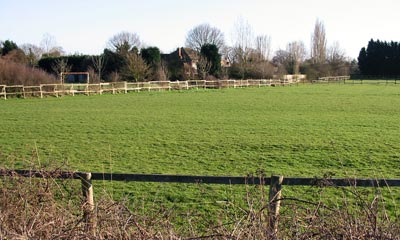 Mischa Balen, the author of Land Economy, said: "This is a simple, market-based solution to Britain's housing problem. As a policy the green belt is 60 years out of date and is creating artificial boundaries."
The process would involve a "re-greening" of England, which would see woodland cover increase by 11 per cent and create homes with a view of trees rather than "ugly, monoculture fields".
The report says: "It seems antiquated for us, the fifth largest economy in the world, to remain so attached to our countryside."
It says that each farm to be converted would yield almost 239,000 square yards of new woodland, and 140 new houses of "average size".
Victoria Edwards, a principal lecturer in environment at the University of Portsmouth and former forestry commissioner, said that the report may have oversimplified a complex problem.
"If you are building new areas for living you would also need to create infrastructures for sewerage, transport and other amenities that could result in a net loss to the environment rather than a gain."
Green belts, which are intended to restrain towns from sprawling outwards, covered 6,454 square miles, 13 per cent, of England in 2004.
But figures released in a parliamentary written answer last year suggested that an average of 3.8 square miles of undeveloped green belt is being built on each year.
This would mean that more than 15 sq miles - an area larger than the city of Lincoln - was built on between 1997 and 2001 alone.
This does not include the brownfield sites that are built on in the green belt each year.
www.telegraph.co.uk, 17.04.2006