Prescott backs land tax to fund services
Ministers are considering a new land tax to fund schools, hospitals and roads needed in the south east of England.
John Prescott, the Deputy Prime Minister, backed the tax as a way of providing services and more affordable housing, with 1.1 million extra homes due to be built in the South East by 2016.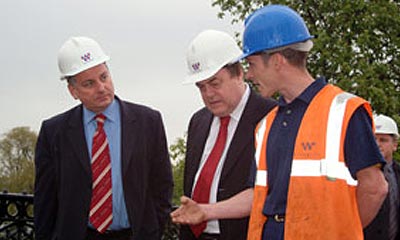 He told a conference yesterday that the Government was looking seriously at the Planning Gain Supplement, a tax paid on the difference between the average price of agricultural land and the average price of development land, which is far higher.
A final decision is expected to be made in the autumn, at about the time Mr Prescott's department is due to publish new planning rules that will force local authorities to step up the amount of housing that is being built.
Mr Prescott indicated that he supports the idea. However, a tax on development land is likely to be highly controversial.
There have been four attempts since the war to introduce such a tax, three by Labour governments, and all failed or were not given time to work.
The main fear is that it would stifle development, because landowners would hang on to see if another party more likely to scrap such a tax got elected before they sold their land.
Oliver Foster, senior policy officer for the Royal Institution of Chartered Surveyors, said: "I have never met anyone in favour of a land tax, other than government ministers."
The RICS has commissioned a report into the tax before making up its mind, but the authors seem bound to find against taxing the average difference between the price of developed and undeveloped land.
telegraph.co.uk, 14th July, 2005