Drive for land in West Scotland
Twenty years ago the area around Gogar was little more than farmland, woodland and a scattering of tiny villages.
Although providing, as it does today, the main arterial A8 route into the city from the west and north, it contained not much more than the city's expanding airport.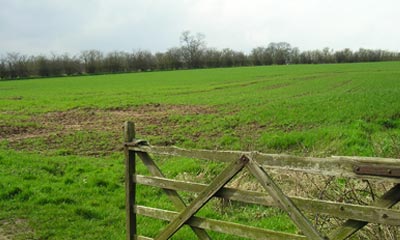 But rural west Edinburgh is now the stage for a fierce battle between developers, environmentalists and city planning chiefs, who have conflicting views over the future of large swathes of land in the area.
Gogar has been identified by the Scottish Executive's West Edinburgh Planning Framework as a unique and prestigious greenfield location for incoming international business HQs, a premium site that can be used to attract new companies who would otherwise go outside Scotland.
On the edge of the Capital, within yards of an international air terminal and seemingly destined to have future rail and tram links with the city, Gogar is the potential jewel in Edinburgh's planning crown.
Having jealously guarded its prize asset, eyebrows were raised when the city council granted planning permission for the Royal Bank of Scotland headquarters at the former Gogarburn Hospital in 2002. Rumours abounded that had the application not been considered favourably the bank may have looked to relocate "out of town".
The council itself seems not to be concerned about planning issues clouding its proposals to route airport tram and rail lines bisecting the countryside.
But other schemes of late have not been graced by such favour. Would-be developers such as Rangers chairman David Murray have seen countless proposals for the area rejected.
The Ibrox supremo's vision for a £90 million film studio with movie legend Sir Sean strConery at Hermiston Gait fell foul of the local plan as did his company's proposal to build a mixed commercial development in the grounds of the listed Norton House Hotel.
And Mr Murray's Premier Property Group, which owns 263 hectares in the area, is once again set to go head to head with city chiefs over his plans to build scores of homes at Ratho Station.
Leisure interests have fared no better. A plan by Turnhouse Golf Club to open a driving range and transform derelict buildings into five homes has been deemed to be against the local plan.
And Heriot-Watt University, which unveiled plans last year for a massive expansion of its Riccarton campus, which would lead to hundreds of new jobs and create places for thousands more students, could still face problems by finding replacement land for the sports fields it hopes to build on.
There is a broad consensus of opinion that city planners are more anxious to point would-be developers further east - to the brownfield waterfront areas where thousands of new homes, offices and leisure facilities are already planned - rather than allow others to follow where the bank has so boldly tread. The general policy at present is that only suitable, limited development should be considered in west Edinburgh.
Robin Holder, director of planning consultants Turley Associates, puts this down to the council's desire to protect valuable green belt land. He says: "Edinburgh City Council has persistently placed more weight on protecting the green belt than meeting housing needs." The city council is also reluctant to allow any other companies in the league of RBOS to build their HQs in rural west Edinburgh just yet, says Mr Holder.
It's a view backed up by Tony Thomas, director of planning at CB Richard Ellis, who says the protection of the green belt is central to the council's vision for the area, but bad news for many developers.
"Green belt is the key. The council must recognise the economic benefit of developing that stretch. By all means, protect the best bits of the green belt, but a managed release of green belt is required."
Scotland's leading housebuilders claim the council's limit on just 1000 new homes in the area under a local plan is simply "unsustainable".
Throw into the mix the rush-hour congestion along the A8 - expected to worsen once the 3200-strong workforce moves into the RBOS headquarters and the airport expands - and it is little wonder many fear for the future of the area.
There are also concerns the public transport improvements which the Scottish Executive is relying on will not be in place soon enough to avoid serious traffic congestion, with trams not due to begin running until 2009. The construction phase of these schemes will themselves cause massive problems.
Calls for an upgrading of the A8 and a scheme to alleviate congestion on the already peak-hour clogged Gogar roundabout and at Newbridge may soon follow. But there are signs that the area will undergo even greater changes in the future and emerge unrecognisable within decades.
Airport operator BAA unveils a 30-year masterplan for the airport later this month, although the Government has already signalled the showground at Ingliston will have to be relocated to make way for a new runway by 2013.
Richard Jeffrey, managing director at Edinburgh Airport, says the importance of west Edinburgh and its accessibility cannot be underestimated: "West Edinburgh is rapidly developing into a nationally important and strategic piece of land for not just Edinburgh, but also for Scotland.
"It has all the ingredients of a major economic hub, with land that is currently under-developed, of sufficient quality and size to put it on a par with European opportunities such as Milan or Frankfurt."
But it is the public inquiry into the rural west Edinburgh local plan, bringing together the council's planning policies and proposals for environmental conservation and traffic management, which may decide its future.
The current plan allows for the creation of 1000 new houses, mainly in the Kirkliston area.
But it also raises doubts over a number of development plans in rural west Edinburgh, with Mr Murray's Premier Property Group among those lodging objections to the local plan. Jestyn Davies, director of the Premier Property Group, says the company believes the council has allocated too many of the proposed 1000 new homes to Kirkliston and not enough to the Gogar area.
"We believe that there is a fantastic opportunity for the planned expansion of Ratho Station, which some would say is a community in decline.
"Edinburgh City Council considers, wrongly in our view, that about 800 of these houses should be built in Kirkliston. It rather defeats the purpose of investing huge sums of money in the tram network which will run to Ratho if new development is not located close to it."
Allan Lundmark, director of planning at Homes for Scotland, which represents the country's leading housebuilders, agrees 1000 homes are simply not enough.
"Over ten years of underestimating housing needs in Edinburgh has forced development in West Lothian and Fife. That is unsustainable. The protected areas in west Edinburgh have no particular merits and could be redesignated to accommodate significantly more housing."
But the local authority's seemingly tough stance has pleased environmentalists, who are adamant that the green belt must be preserved for the good of rural west Edinburgh.
Duncan Campbell, spokesman for the Friends of Edinburgh Green Belt, said: "We are very concerned about the amount of development mooted for rural West Edinburgh. Much of it is infrastructure, heavy rail and trams. We support Edinburgh City Council's reluctance for more housing."
Councillor Trevor Davies, the city's planning leader, said: "The ongoing public inquiry provides an opportunity for interested parties to make their views known on the future development of west Edinburgh. Green belt remains a central element of west Edinburgh and it is essential this is protected for future generations."
Scotsman.com, 11th January, 2005