Beware the thief on the other side of the fence
The illegal appropriation of land is a growing problem and, as Cheryl Markosky writes, it can create the kind of feuds between neighbours that you see on TV
Walking home from work one evening, Hilary Smith was to make a discovery that would give her many months of aggravation - and leave her £20,000 poorer.
A victim of "land theft" - an increasing problem as homeowners try to maximise their biggest asset, according to concerned experts - she noticed the subterranean rooms being carved under her neighbour's west London garden stretching beneath her land as well.
"I could tell from the workings above ground that the structure had shifted several yards under my garden," says Hilary, who confronted her neighbour. "He said it was nothing to do with him and I should talk to the builder."
The 51-year-old widow invited her neighbour, the architect and builder round to try to sort out the illegal encroachment. "The owner, needless to say, didn't show up; nor did his builder, whom it turns out wasn't insured properly. The architect did show his face, but refused to accept any responsibility. I ended up having to employ a solicitor."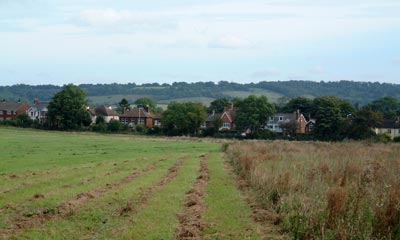 The matter dragged on, with the neighbour refusing to answer any of the solicitor's letters. "I was downsizing and selling the house, so he thought he would just grind me down, and eventually, I would give in," she says. She was lucky, because she managed to hold on to a buyer despite the land theft problem. It took four months and nearly £20,000 in legal fees, however, to win her case. What upset her almost more than the money and hassle was the cheek of someone trying to grab what wasn't rightfully theirs.
Savills' planning consultant David Henry says there are two main types of land theft. The first is encroachment, where someone goes over a border or boundary. "Typically, they start to build an extension, placing the external wall right on the boundary, with the foundations and guttering extending beyond their property."
He believes with people eager to add value to their homes, we work "from the inside out, trying to create as much space as possible, which can create the kind of neighbour wars you see on television."
Secondly, there is adverse possession, a sort of squatter's rights where someone might notice a bit of unloved wasteland out back. "He just purloins it," explains David, "by moving the fence over a couple of yards. He can become the rightful owner if it can be proven he has been in possession of the land for 12 years without objections from the real owner."
This form of land theft is on the rise, as councils have less time and money to account for every scrap of land. "Some might not even realise they own it as it gets lost in the bureaucratic machine," he says.
When buying a property, it makes sense to check that the land you believe comes with your new home actually does. Property finder Mark Lawson, from The Buying Solution, found a client a £3million house in Oxfordshire. As well as having solicitors cast an eye over the boundaries, he decided to walk the plot himself. "It was fairly complicated going through woodland and I was concerned the boundaries did not follow the title plan." He hired a surveyor to plot the existing fenced boundaries and compare them with the plan. "They were very different. It turns out the Land Registry had drawn the boundaries in the wrong place, with important bits of the property - like the gates and lawn in front of the house - on the neighbour's patch." After seeking legal advice, Mark had to get the current and previous two owners to make statutory declarations confirming they had enjoyed unhindered access to the property over the past decade. "We also took out a £1,500 insurance policy for the new buyer in case the neighbour tried to make a claim on the land. Although the property had changed hands twice over the past few years, no one had picked up the mistake."
He recommends looking for signs of discrepancy. Fences, hedges and ditch lines are not always clearly defined and you need to determine the real boundary. A good lawyer should check title plans carefully before you exchange contracts.
Pushing the boundaries by stealth can disrupt an entire community, according to IT consultant Andy Gilbert. Three months ago, his retired neighbour in a once-harmonious Hertfordshire hamlet planted a line of conifer trees on the Gilbert property when he and his family were away. "We went on holiday and returned to find he had not only taken three-and-a-half feet of our garden, but blocked the light from the side of our two-storey house. I tried talking to him, but he wouldn't listen."
Andy is looking for a planning lawyer with experience in land theft to represent him. "The argument is splitting the village in half, with everyone taking sides," he says. "Even if we win the battle, we are thinking of selling up. At the end of the day, I don't think anyone really wins in these cases."
Names of homeowners in this story have been changed
Planning tips
Richard Hanson, head of real estate litigation at Eversheds in Norwich (01603 272868), advises:
Make sure you can demonstrate clearly where your boundaries really are.
If you own an odd-shaped piece of land or field, record a video survey so someone cannot move a fence without you knowing.
Enquire whether any previous disputes in relation to land and boundaries exist with the neighbours.
Try to deal with a land theft problem through mediation. As soon as professionals get involved, things can become confrontational and expensive as your legal costs mount.
telegraph.co.uk, 03.05.2006