Why aren't our builders building?
Property insiders, politicians and young people looking for homes in Britain's thriving cities are united on one point: the country is in the grip of a serious housing shortage.
But opinions are widely divided when it comes to placing the blame for a situation where, according to the Joseph Rowntree Foundation, the number of homes built during each of the past five years has remained static at 154,000, with the number of low-cost "social" houses being built falling from 16,999 in 2000-2001 to 13,601 in 2002-2003.
As the buck is passed between housing professionals, planners, builders and the government, first-time buyers are left desperately trying get on the property ladder.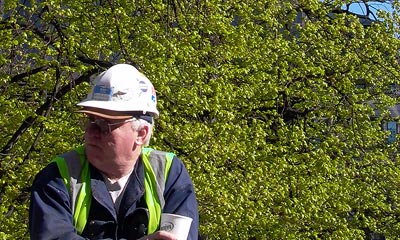 Charles Tresham, 24, who is a police officer in Croydon, was unable to buy last year when he joined the force. "I spent six months looking in estate agents' windows, but prices were silly. There just aren't enough new homes being built and so I had to live with my parents," he says.
"I hoped for a two-bedroom flat or a small house. But after I calculated the mortgage on my salary, I could get only a one-bedroom flat in Reigate."
Even then he could not afford a deposit. He borrowed £25,000 from Key Homebuy, a scheme open to some public sector workers in southeast England. He finally bought a flat for £111,000 during the summer.
While first-time buyers such as Tresham struggle to get on the property ladder, the war of words rages on. Only one out of six planning applications for new homes is decided upon inside the government's target deadline, say developers, pointing the finger directly at councils and Whitehall.
"Slow planning is stifling. The government says councils should decide on most planning applications for 10 or more new houses within a maximum of eight weeks. But only 16% of decisions come in that time," says Pierre Williams, of the House Builders Federation (HBF), which accuses councils in the north of England of deliberately preventing new homes from being built.
It claims that Lancashire, Manchester, Cheshire and Staffordshire local authorities are using a loophole in government guidelines to prevent any further new homes being given the go-ahead until at least 2006. The councils say that they already have enough new homes under construction, but the HBF disagrees.
This latest row between town halls and builders comes as Kate Barker, a former economist at the CBI, prepares to issue a report on the problem. The Barker Review of Housing Supply was commissioned by the chancellor, Gordon Brown, to discover why Britain, the world's fourth wealthiest economy, has a housing shortage with property prices beyond the reach of many.
Housebuilding is at its lowest level since 1924; the gap between supply and demand widens by 60,000 annually — an average of 219,000 new households is created each year through longer lifespan, more solo-living from choice and an increasing divorce rate — and will exceed 1.1m in England by 2020; and the number of low-cost homes being built for housing association tenants is lower than at any time since 1995.
Yet house prices are soaring — properties in Widnes, near Liverpool, for example, rose 68% in the past year alone, according to the Halifax Bank.
Meanwhile, government targets for about 225,000 new homes each year until 2016 — mostly for first-time buyers — have provoked protests that threaten to delay their construction.
The HBF says there is excessive public consultation and claims councils want ever-higher cash payments to improve the infrastructure in return for planning permission. It also says planners want so much social housing that it threatens the economic viability of some developments.
But others blame the developers. The Council for the Protection of Rural England (CPRE) says Britain's 15 largest housebuilders own enough empty land with planning permission to accommodate 278,866 new houses. Using data from builders' annual reports and the Credit Lyonnais bank, the CPRE says this is 17.6% more than in 1998.
The council claims this indicates a deliberate slowdown on building in order to create a shortage and force up prices. "Housebuilders' special pleading for more greenfield land to build upon is not borne out by the facts. Far from there being a land shortage, too much countryside is still in the pipeline for development," says Neil Sinden, CPRE's policy director.
The government has been careful not to criticise developers openly, but insists that planning decisions are getting quicker. It has given extra funds to planning departments to train new staff but accepts most councils are missing deadlines. And despite being vocal in their criticism of public authorities, developers are doing well out of the housing shortage.
The UK's largest, George Wimpey, reported a 42% jump in annual profits last month, while Barratt Homes recorded a 31% increase. They say these are the good times and need to be balanced against lean periods.
So who should take the blame for our national housing shortage? "Slow planning has a lot to answer for, but it's too easy to blame everything on that," says David Henry, planning director at property consultancy FPDSavills.
"Developers don't do their homework on complicated brownfield sites before making applications. Therefore planners come back and ask questions — that's why there are lots of delays. Anyway, the real problem is not with the slow consideration of individual applications, but with the consultation that goes into large-scale plans.
"Take the M11 corridor (where 195,000 homes may be built in largely rural areas). First there was the idea, then the government hired consultants to produce options. These were consulted upon and then preferred choices were made by local politicians. Finally the government was told, and it issued a strategy document. That took two years. The government talked to Uncle Tom Cobbley and all before a specific planning application could even be made."
In December 2001, the government issued a green paper amid a flurry of promises to change all this. There was to be less consultation, tighter timetables, quicker decisions. Ironically, these reforms have now become bogged down by consultation.
"Two years on, we don't even have a date for the legislation to enact the changes. There's been a lot of talking within the industry, but no progress," claims Henry. "Realistically, whatever Kate Barker suggests, things probably aren't going to improve. We just have to keep on fighting to push through every application for new homes."
The Sunday Times, 19.10.2003