Housing project battle could set a 'damaging precedent'
A LONG RUNNING battle to build thousands or homes on agricultural land in Hertfordshire, which could have major implications for development in the St Albans area, is finally coming to a head.
A public inquiry into plans to build up to 5,000 homes on Green Belt land near Stevenage got under way last month and it the would be 'developers get their way, construction could start next year.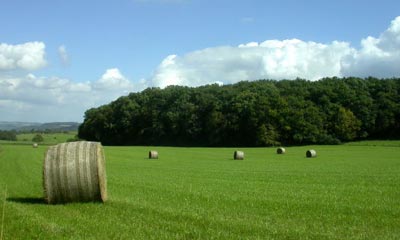 But if residents, pro-countryside pressure groups and the County council come out on top it could increase the pressure for more homes in and around St Albans in the struggle to meet government housing targets.
St Albans Tory district councillor Chris Whiteside in charge of planning matters on the cabinet, has mixed feelings about the west (if Stevenage project.
He said: "We would rather have houses built west of Stevenage than in our own district, but there is concern about the precendent. The extreme probability is that it is going to go ahead. A lot of people in St Albans would say we want to protect our own area. But in the long term it may set a precedent that damages the Green Belt in St Albans."
He said Stevenage Borough Council wanted as many as 15,000 homes there to improve the town's economy.
He was concerned Luton Borough Council was, like Stevenage sympathetic to developers, and might want to encourage building projects on Green Belt land on the boundaries of St Albans.
But district Labour leader Malcolm MacMillan said: "There is a Tory agenda [on the county council] aimed at not having the west of Stevenage development.
"It is causing immense problems. That is where the pressures have come from. If they had allowed it to go ahead, we would not have had pressure about filling in and cramming every little space. It means the rest of us have to suffer."
He claimed the Conservative county council administration was eyeing up Green Belt land south of St Albans as an alternative to the west of Stevenage proposal.
The idea of a major development on agricultural laud immediately west of the A1(M1) near Stevenage was first raised about ten years ago, as Hertfordshire County Council officers drew up their structure plan, which sets out in broad terms where development might take place up to 2011.
Although they felt all the 65.1100 new homes the government was demanding could be built either on vacant spaces in towns or in small developments on their outskirts, district councils keen to prevent urban cramming disagreed. After a public enquiry, a compromise structure plan was drawn up in 1998, stating that 3,600 homes could be built west of Stevenage, but only if it became apparent the government target was not being otherwise met.
But when the Conservatives seized control of the county council ell from a Lib Dem / Labour coalition in 2001, they decided to try and put a stop to the idea, which not surprisingly had aroused massive local opposition.
Helped by new government planning guidance that urban development was preferable wherever possible, the council set about gathering evidence to demonstrate the Stevenage project was unnecessary.
The issue was complicated by the conflicting opinions of the two district councils directly affected. The authority in North Herts, where most of the 2,600 homes would go, was strongly opposed, but Stevenage Borough Council was in favour, and drew tip its local plan - another form of planning guidelines - to reflect this.
Another public inquiry into the Stevenage local plan a year ago went in favour of the objectors, a government inspector ruling development should not go ahead until it was proved it was needed.
But now a developer has submit-ted two planning applications for the controversial site, one for 3,600 homes and an alternative plan to build 5.000. and is arguing the original structure plan, still legally in fun e, permits them.
All sides - developers, district councils, the county council, residents, campaigners - are now arguing out their cases in front of a third public inquiry in Letchworth, expected to conclude in April.
Barristers have been engaged by both sides, and Hertfordshire County Council expects its costs to be a five-figure sum.
The inspector will report later this year to Deputy Prime Minister John Prescott whose decision will be final, barring a challenge in the law courts.
St Albans Observer, 26.02.2003