Cat ban may allow housing on green belt
ONE of Britain's biggest housing developers wants to ban its buyers from keeping cats so that it can build on the edge of a conservation area.
George Wimpey has offered to write the ban into the title deeds of new flats as part of an attempt to persuade planners that the new homes will not affect rare birds in a nearby nature reserve.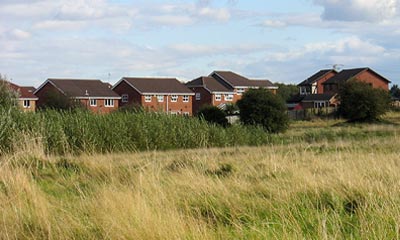 The radical move is the latest in the growing battle between conservationists and house-builders who want to construct homes on greenfield sites.
If approved, the plans for Crowthorne, Berkshire, could create a wider precedent. Cats have been blamed by the Royal Society for the Protection of Birds (RSPB) for killing 55m birds and 220m other creatures each year.
That huge death toll has prompted English Nature to object to many new developments planned for land close to important wildlife reserves. This has helped block the construction of thousands of homes around reserves such as the Thames Basin Heaths special protection area, whose border is close to the Crowthorne site.
Wimpey hopes the cat ban, which would be binding on all future owners, would overcome such objections.
The company was initially refused planning permission by Bracknell Forest borough council but has launched a planning appeal to be heard this week.
The area was designated last year because it contains important populations of Dartford warbler, nightjar and woodlark. Dartford warblers are particularly vulnerable to cats because they nest on the ground.
Rob Cameron, manager for English Nature's Thames and Chilterns team, said: "Research shows that cats will roam up to a kilometre from their home and they can do enormous damage to wildlife," he said.
A spokesman for Wimpey said: "This covenant was drawn up following discussions with English Nature. We know of no other planning development with such a covenant."
Pet bans are often written into tenancy and rental contracts but these are usually for reasons of hygiene and nuisance rather than conservation.
Cameron acknowledged the proposed ban on cats was a positive move but said English Nature still had concerns. "We have told them that they also have to show us proof that such a ban can work and that people will observe it. So far they have not shown us any such proof so we are still objecting," he said.
"When it comes to Dartford warblers and other groundnesting birds, the cats will just hoover them up. It's our job to protect them."
Britain has around 10m pet cats — a number that has roughly doubled since the 1980s. One study in Bristol found 226 cats per square kilometre.
The RSPB reports that it gets thousands of calls a year from people angered at seeing cats killing birds, often in their own gardens, and at the absence of legislation obliging owners to control their pets.
English Nature's objections have angered house builders who have set up the Thames Valley New Homes Coalition. A spokesman said delays in planning permission would bankrupt builders. "With an increasing shortage of homes, house prices will also continue to rise," he said This week the government is expected to publish projections suggesting that England needs 4m new homes to be built by 2026. The country currently has about 21m homes.
The largest increases are expected in London (27%), the east of England (21%), the southwest (20%) and the southeast (19%).
timesonline.co.uk, 12.03.2006