Resignation call over Green Belt housing
TORY county council leader Robert Ellis is facing calls for his resignation following a humiliating response from the Government over changes to Hertfordshire's Structure Plan.
The East of England Government Office (GO East) says "the county should not have ruled out Green Belt land for sale development before 2006 in its proposed Structure Plan alteration." The Structure Plan is the blueprint for housing development in Hertfordshire until 2016.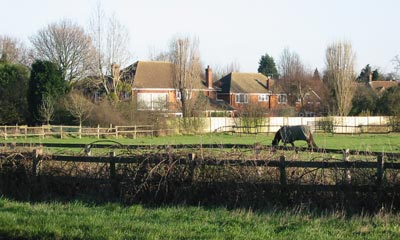 GO East also criticised the council's decision to press ahead with the alterations given that the Government is poised to approve new regional land for sale planning rules which would not be compatible with county housing targets. These would not come into effect until 2010 so the Structure Plan would govern development until then.
The ruling Tory group at County Hall has also ruled out 5,000 new homes on Green Belt land for sale West of Stevenage. Labour councillors say these homes would reduce the need for town cramming and help lower house prices.
The decision angered planners at St Albans District Council who vehemently disagree with county's demands that 460 homes be built in the district every year until 2016.
District planners say the target is unachievable and Green Belt land would have to be sacrificed. Labour councillors at County Hall say their concerns have been vindicated and are calling for Mr Ellis's resignation.
Councillor Brian York, Labour environment spokesman, said: "It will be very difficult for Labour members not to shout at the Conservative majority 'we told you so but you ignored the message'. The Tory leader, in his obsession to abandon West of Stevenage, was determined to cram the towns and prevent our young people from ever affording decent housing in Hertfordshire.
"If he has any integrity left he will resign having led his controlling Tory members into such an incompetent and disastrous mess."
Councillor Ellis said Councillor York's comments were a knee-jerk reaction.
He said: "He has slavishly accepted that Hertfordshire should buckle under the Government's pressure for increased housing."
"Undoubtedly we need to consider where housing on land for sale might go in the light of Government announcements, but I will not be bounced into making hasty decisions."
GO East's comments also came under fire from the Campaign for Rural England. Spokesman Kevin FitzGerald said: "The county's plan should be good news for a Government committed to using developed sites for housing, higher densities and an urban renaissance."

St Albans Observer, 06.05.2003