Government 'must act' to prevent 'garden-grabs'
Tories tonight demanded a shake-up of planning laws to prevent so-called "garden grabs" by housing developers.
Caroline Spelman urged ministers to close a loophole in the planning process and end the blight of inappropriate garden development.
The shadow communities and local government secretary encouraged Ruth Kelly, the Secretary of State, to reverse an "unpopular and destructive" policy.
She added that Ms Kelly had "intervened numerously" in her own Bolton West constituency to prevent it happening.
Opening a Commons debate, Mrs Spelman protested: "The present planning guidance is failing. It is failing communities who are powerless to prevent gardens and urban green spaces being developed.
"It is failing first time buyers who simply can't afford the expensive apartments that are being built and it is failing residents through lack of supporting infrastructure.
"And finally it is failing future generations who will have to live with the environmental legacy of this rush to build on our urban green spaces."
Mrs Spelman said the problem arose through the classification of back gardens as brownfield sites, the prioritisation of brownfield development and the density of targets for new housing.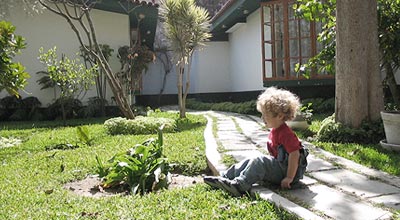 "It is the confluence of these polices that have created unprecedented levels of garden development," she added.
And the situation was set to get worse - only today the Government Office of the South East had called for a 60% rise in the existing housebuilding target.
The campaign to remove gardens from brownfield classification started with a Commons motion from Tory Greg Clark (Tunbridge Wells) which secured 170 cross-party signatures.
Mr Clark will tonight accuse ministers of effectively changing the law to make it increasingly difficult for councils to stop developers purchasing houses with big gardens, demolishing them and building blocks of flats in their place.
At least 22,000 new homes are built every year on land previously used as a garden.
Mrs Spelman called for new "urban villages" to be developed on "former industrial land that has fallen into decay".
She said where cities like Birmingham, Manchester and Leeds had seen some areas regenerated, often "within spitting distance" there were "areas of dereliction" which could be used for new homes.
Mrs Spelman urged the Government to "restore local democracy" and allow communities to decide how their landscapes should be developed.
Calling on Ms Kelly to reclassify gardens, she added: "The Office of the Deputy Prime Minister was created to serve the man, whereas your new department was created to serve the communities and local government. This is your chance to live up to it."
But Ms Kelly seized on her comments to claim that, for the Conservatives it was "a new day, a new policy".
"Two years ago the Tories were concerned about too much urban sprawl, that too many houses were being built on the outskirts of our towns and cities. Today they are concerned that two many homes might be built within our towns and cities."
She said that since the brownfield definition was introduced by the Conservative government in 1985 there had been a "significant decline" in such sites being developed.
Councils already had power to turn down "inappropriate development in gardens", she said, adding: "There's no presumption that brownfield sites have to be built on."
24dash.com, 21.06.2006