Battle lines are drawn
Amberley, West Sussex, is up in arms over plans to build homes in the grounds of the vicarage. Richard Woods reports on the growing trend of garden grabbing
It is hard to imagine a more beautiful fragment of English countryside than Amberley in West Sussex. Set on a bend of the River Arun, this ancient settlement is tucked away in meadows just below the Downs. A 900-year-old castle stands on a small rise. Nearby is a fine church of stone and flint, parts of which date from Norman times. Beyond the churchyard lies a winding lane of thatched cottages and stone houses.
A rural idyll? Not any more. Trouble stirs in Amberley. We're not talking Midsomer Murders, but Martin Cummings, who turned the dilapidated Amberley Castle into a world-famous country hotel, is up in arms.
What has spurred his anger, and that of other villagers, is the phenomenon now sweeping southern England: garden grabbing.
English Courtyards, a developer, has bought the local vicarage and applied to build six (now reduced to five) expensive new houses in the garden, a mere bowshot from the castle and numerous listed buildings.
Peering from his castle battlements, Cummings is horrified at the prospect of such a new development. "You can't do this to such a lovely village," he says. "This is the most sensitive part. Once you start garden grabbing, it's the thin end of the wedge."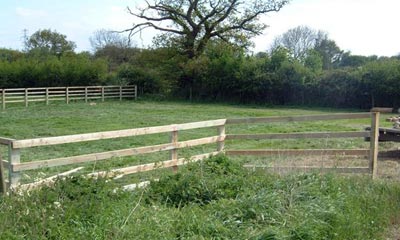 Across Britain, communities are being riven by battles over the rights and wrongs of building new homes in gardens. For many residents, the most infuriating discovery is that local democracy often seems to count for nothing as the government's planning juggernaut bears down.
"There are all kinds of unpleasant rumours flying about," says one Amberley resident, who asked not to be named. "Most people are against the development, but some are for it now; it adds up to a very odd set of circumstances."
When the church commissioners put the local vicarage up for sale, about two years ago, opposition to any extra development on the site was widespread. Residents, the vicar, and the Amberley Society, a group dedicated to the history of the village, were keen to preserve what they saw as its heart.
But now Rev David Farrant, the vicar, who has since moved to a new, smaller, vicarage, backs the development. "It was a good move to sell it," he says. "I'm very much in favour." He changed his mind after the developers agreed to provide much-needed car parking spaces at the church. He also belives new homes will benefit some local residents.
To the amazement of others, the parish council has also written a letter supporting the project. "There was no consultation over it," says one angry resident, who lives near the vicarage. "Yet all previous surveys (of local people) have shown there should be no development in this part of the village."
The Amberley Society, on the other hand, remains opposed — as do many other villagers. Even those in favour of some development say the vicarage is the wrong site.
"This is a conservation area," fumes Cummings. "The castle is Grade I-listed. I can't even fart without permission. Yet they're planning to build executive homes next door. If it can happen here, it can happen anywhere."
It certainly can. In various places in Surrey such as Godalming, Haslemere and Farnham, the locals are so incensed by garden grabbing they have taken to the streets. "They're marching," says Lucy Matthews of Propertyhousemarketing, a property consultancy in Guildford, Surrey. "And people just don't march in this sort of area."
In Poole, Dorset, a developer called Lifestyle Homes is trying to buy an entire street of bungalows to redevelop all the houses and gardens. Its offer of £100,000 above the market rate to each occupier has divided neighbours — some want to sell, some want to stay — and led to a meeting that ended, according to one report, in "near riot".
And in Tunbridge Wells it's hard to move for people who aren't "disgusted" at various plans to garden grab. In one instance, Barratt Homes wants to turn four existing homes and two gardens into 23 properties, including a block of flats.
The villain in this is John Prescott, the deputy prime minister, who was responsible for planning laws that encourage new developments on brownfield sites. Most people expected the new rules, introduced in 2000, would mean more houses built on disused urban, business or industrial sites. Far from it.
The government's definition of brownfield includes the "curtilage" of domestic dwellings, that is, their gardens. The government likes to boast about the number of new houses being built on brownfield sites, as if this is a sign of urban regeneration. It isn't.
In the New Forest, south Oxfordshire and parts of Surrey, more than 60% of all new homes built in 2004 were in the gardens of, or on the site of, existing dwellings. In south Buckinghamshire, the figure was 100%.
This might not be a problem if the new dwellings were affordable housing to meet local needs or architectural masterpieces of the sort championed by Kevin McCloud, the occasional Sunday Times columnist and presenter of Grand Designs. But often the developments are uninspired boxes, expensive executive homes or unsuitably dense.
In the Hampshire village of Chawton, where I live, for example, a developer applied to knock down three houses and build 25 in their place. The plan is proceeding after being reduced to 15 new dwellings — still a large addition to a village of about 100 homes with limited infrastructure and access.
In recent years, communities have been encouraged by local councils to draw up their own plans for development, preparing documents called Village Design Statements. These typically involve residents themselves agree-ing on styles of development and identifying possible sites for new housing.
Yet in Prescott's planning process, real power lies with developers. First, the rules stipulate development at higher density than before. Second, when local councils reject a developer's plans, the developer can appeal. If councils or local groups fight these appeals, they risk heavy legal bills if the developer wins.
In a cynical poker game, builders sometimes put in a proposal for a development of outlandish scale knowing it is likely to be rejected. They then make changes they can present as reductions or concessions. They may also offer trade-offs — say an improvement to a local amenity — to persuade the reluctant. Councils then accept these "reduced" proposals, claiming they have struck the best deal possible.
The issue has become so contentious that MPs are being bombarded with complaints from constituents. In Solihull, the Liberal Democrat MP Lorely Burt has called for a revision of planning guidelines to stop garden grabbing.
"Solihull's motto is 'urbs in rure' (town in country)," Burt said recently. "If garden grabbing continues unchecked, I'm afraid we will be reduced to simply 'urbs', with no rure left to speak of."
Jeremy Hunt, Conservative MP for southwest Surrey, who lives in Farnham, is another prominent critic. "Garden grabbing is probably the number one issue in my area," he says. "What we have been seeing is this domino effect — people are very worried they could see their whole street turned into mini-developments. Everybody is realistic that there has to be development, but they don't want the character of the area to be damaged."
Hunt believes that if local councils were left to solve the problems of more affordable housing, they would do so more in tune with local needs and opinions. He is now campaigning for Waverley borough council, in which Farnham, Godalming and Haslemere lie, to change the rules to require developers building more than five homes to include some affordable housing in the scheme. At present, they are only obliged to do so with projects of 15 houses or more.
Other Tories such as Michael Gove, the shadow housing spokesman, and Greg Clark, who represents Tunbridge Wells, have also spoken out.
On the other side of the fence, however, there are willing sellers, and not everyone is against garden grabbing. Premier Properties, a developer of sites in Surrey, points out that many buyers of new developments in gardens turn out to be locals.
"Our latest development met with a number of objections from local people," says Roger Jelley, the company's co-founder. "Once construction was finished many of the detractors changed their minds. More than 50% of the flats were bought by local inhabitants."
The reality, however, is that for many communities, the battles over garden grabbing will continue to be divisive. Only a much broader review of planning laws will stop developers and owners trying to cash in on land potentially worth millions — as well as find a way of providing more affordable housing.
In Amberley, the battle over the vicarage may be decided this month. Opponents are well organised, but face a developer for whom making the most of the planning system is a full-time job.
"We all know things have to progress," says Caroline Seaton, a potter who has lived in the village for 40 years, "and this proposal is a good design — but it is in entirely the wrong place."
timesonline.co.uk, 08.10.2006