Growing Market in back gardens
When one couple wanted more room to stretch their legs, they paid £245,000 for the neighbouring flat just so they could annex its land. Ross Clark reports on the growing market in back garden land sales...
If biblical scholars were still translating the Old Testament from Hebrew today, they might be tempted to fiddle with the tenth commandment, so that it read: "Thou shalt not covet thy neighbour's lawn.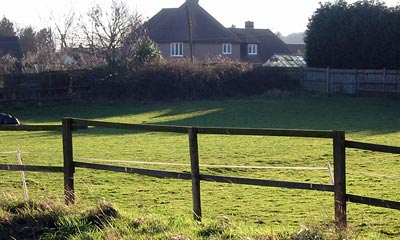 From the inner suburbs of London to the open countryside of North Yorkshire, a growing trade in bits and pieces of garden is pushing the price of land to unprecedented levels. In fact, some homeowners will go so far as to buy their neighbours' houses purely to snatch the vegetable patch.
When Tim Le Blanc-Smith, an estate agent with John D. Wood, wanted a little more room to stretch his legs in the 30ft-long garden of his terrace house in Wandsworth, south-west London, he first asked a neighbour to the rear of his property whether he might consider selling him a few feet of ground. "He told me in no uncertain terms what I could do with myself," says Tim.
There was only one thing for it: wait for the ground-floor flat to one side of his property to come on to the market and buy the whole darn caboodle, purely in order to annex its garden to his own. In the process, Tim has gained an extra 20ft of garden, but at a price: the flat cost him £245,000, on which he has had to pay one per cent stamp duty and conveyancing fees.
"The extra garden is particularly useful to me because it has side access, which my existing garden does not," he says. "Hopefully, at the end of it I will have made money. I have left the basement flat with a patio garden, so I don't think I have diminished its value by much. In fact, I am intending to rent out the flat, and I don't think it will command any less rent because it has a patio rather than a garden. And I think I may have increased the value of my property by about £20,000."
Buying a flat to snatch the garden is a route already trodden by Richard Compton Miller, the author of Who's Really Who. He annexed the garden of a one-bedroom flat in Gunter Grove, Chelsea, which backed onto his own house in Fernshaw Road. "Like most of the houses in my road, my property had had an extension built that left it with only 20ft of garden," he says. "Yet just over the back fence, I noticed, was an overgrown patch of garden full of dead birds. The flat cost me £220,000 and I now let it out.
"I don't think I diminished its value by taking away 30ft of its garden, so, in effect, I got the garden for free. Fortunately, the seller, who could have charged me a lot more, was a real gentleman. The extra garden has probably added 10 per cent to the value of my house."
James Taylor of the agents Jackson-Stops & Staff in Chelsea isn't quite so sure. "A Chelsea house with a 50ft garden is worth about 20 per cent more than one with no garden," he says. "However, a house with a 100ft garden isn't worth much more than one with a 50ft garden. Buying a neighbouring property to create a bigger garden is more a luxury than an investment.
"You have to be aware of how much you are devaluing the house next door. I know of a case in Knightsbridge where the owners of one property bought the next-door property and annexed the back half of the garden, to create an L-shaped garden. They then proceeded to put a swimming pool in the foot of the 'L'. The house whose garden they took has been devalued by about 20 per cent."
Even with flats, there is a penalty to be paid for snatching the neighbouring garden. Two years ago, Glen Whiting bought the flat next door to his terrace house in Eglantine Road, Wandsworth, in order to annex its garden. He now lets out the flat. "Previous tenants of the flat didn't use the garden," he says. "But taking the garden away has probably taken between £50 and £100 off the monthly rent. Not that I am bothered. I bought the flat for £180,000 and it is now worth £240,000."
He is now selling the house through FPDSavills for £1.05 million, possibly with the flat. "Otherwise, the garden will remain with the flat. Legally, the garden still belongs to the flat. All I did was take down the fence. Fortunately, there was nothing in the deeds stating that I had to ask permission to do this."
The price that homeowners in central London are prepared to pay for a slice of someone else's garden is astonishing. In Holland Park, says Peter Young, of John D. Wood, three homeowners have just paid £9 million for a strip of land, approximately 150ft by 100ft, in order to extend their gardens. At nearly £30 million an acre, they must be just about the most expensive gardens in the world.
"The land had planning permission for a 22,000sq ft house that would have overlooked them if they hadn't bought it," says Young. "They did offer £6 million for the land a year ago, but I told them it was worth more like £8 million. It is only with the prospect of a house being built that they decided they would have to pay whatever the land would cost. But, to put it in context, this is a street where the houses are worth £9 million to £10 million, and the extra land will double or triple the size of their gardens."
Even in suburban Esher, the price of an extra strip of garden can exceed £1 million an acre. When a dilapidated house to the rear of Lesley Hodgson's home came up for sale recently, she and a neighbour did a deal: they would buy the property, she would snip off a bit of garden and the neighbour would redevelop the house.
"Lesley paid about £350,000 for the land, which increased her plot from a third of an acre to over a half an acre," says Richard Winter, of FPDSavills, who handled the sale. "It wouldn't have been worth it purely in terms of increasing the value of her home, but she needed the land for a swimming pool - if she hadn't bought it, she would have had to move."
With the Government now insisting that new houses be built at average densities of 30 to 50 houses per hectare (present construction is at an average of 25), gardens are going to become ever more prized assets. Eventually, urban gardens may become like some London houses: valued by the square foot. But the desire for outside space isn't the only reason to buy a neighbouring house and annex part of the garden. Sometimes it is more a case of wanting to even up boundaries and improve the view.
Bryan Jaram, an estate agent with Jackson-Stops & Staff, already has an acre of garden at his home in Tockwith, North Yorkshire, but for the past 28 years he has stared out over a rather ugly 1960s bungalow. "The lady who built it used to own our house," he says. "But she did the bungalow in a way that wouldn't get planning permission these days: more or less right in front of our house. When the lady died last year, I got together with her neighbour on the other side and we bought the bunglow. I have taken a triangular strip of land about 15ft by 75ft and the neighbour is going to rebuild the bungalow in a slightly different place.
"It hasn't been cheap: the small triangle of land ended up costing about £20,000, but it has made my house much more pleasant and does away with any potential problems with neighbours."
Less sure that he has done the right thing is a homeowner from the New Forest, who paid more than £800,000 for a neighbour's house purely to get his hands on a two-and-a-half-acre paddock. He has since put the house, minus paddock, back on the market for £725,000.
"The cost has been horrendous," he says. "I've had to pay 4 per cent stamp duty - that is, over £32,000 - and I've got to pay legal fees and estate agents' fees in selling the property. But I had been renting the paddock for 20 years; when the property came up for sale I simply had to buy it because I need somewhere for my horses. Unfortunately, the owner wouldn't just sell me the paddock, so I had to buy the house as well."
After talking to me, this garden-snatcher rang back and asked me not to mention his name or the name of the property: "After reading how much it has cost me, people will think I'm desperate to sell," he said
The Telegraph, 28th July, 2004