Shock as 'tip' is sold for £100,000
A rubbish-strewn one-acre plot of land in Sowerby Bridge, with prime views of a sewage works, has astonished property agents by being snapped up for £102,000 - 10 times its guide price.
The freehold plot beside Upper Gaukroger Farm, in Sowerby New Road, was valued at between £5,000 and £10,000 when it went to auction. But a bidding frenzy led to it being sold for the six-figure sum.
The land is in the green belt and there appears very little chance of it being earmarked for housing.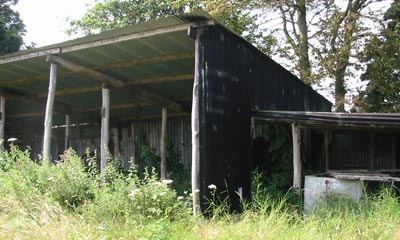 Planning policy manager Philip Ratcliffe said: "When the land was advertised earlier in the year we received calls from people all over the country wanting to know whether it could be used for housing.
"We told them it was in the green belt and the best they could hope for would be to put a stable there.
"I am very surprised it has been sold for such an elevated price. Quite what is going on here is very strange."
Staff at Eddisons auctioneers were left reeling by the £102,000 offer for the plot.
Auctioneer Tony Webber said: "This plot of land, which sits in a green-belt area and has little likelihood of gaining planning permission, was previously offered with the same guide price during our auction on February 27.
"After fierce bidding on the day, it sold for an incredible £100,000, but due to problems with the initial buyer the sale was not completed.
"The vendor agreed to put it up for re-auction again, although we warned her not to let the previous experience inflate her expectations as we felt the price we would achieve would fall some way short of that reached in February. To sell it for even more is astonishing."
The owner had been using the ground to store scrap metal and keep livestock.
If a house was built there, it would have views across the Calder Valley and the High Royd sewage works towards Warley.
Southdale Homes has almost finished an estate of new houses about 200 yards from the Gaukroger plot.
"All I can say is they must know something we don't," said Chris Hill, an estate agent web designer, who was at the auction and lives on Sowerby New Road.
"I would think the chances of him getting planning permission are slim. It's crazy. They've just built a load of new homes down the road and that was a green-field site."
Calderdale Council's deputy leader John Foran said: "Sowerby Bridge is becoming a boom town and I can only think the buyer is anticipating getting planning permission."
Halifax Today, 10.05.2004