Extra Homes threat to Green Belt
NEW threats to the Green Belt will be discussed at a public meeting tonight (Wednesday) on housing targets set for the district. The new targets published last week could force St Albans into sacrificing more Green Belt land than was first feared.
Planners at St Albans District Council estimated it could build 6,000 homes by 2021 without using any Green Belt land.
They allocated Green Belt sites for an extra 1,300 homes in anticipation of a tough target being set by the East of England Regional Assembly (EERA).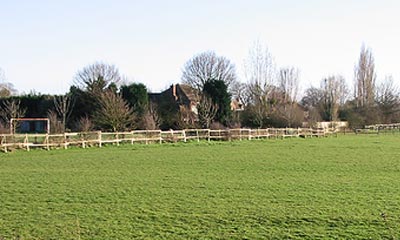 But the figure announced by the EERA last week was 7,700, which means the council will have to find space for an extra 400 homes.
The Bishop of St Albans, the Rt Rev Christopher Herbert, will chair tonight's meeting at St Albans School at 7.30pm. Planning portfolio holder Chris Whiteside confirmed that this would put the Green Belt under "real pressure".
Councillor Whiteside added: "If we are to meet this target we have to find the option which causes the least offence.
"Do we build on almost every available green field site, take even more land out of the Green Belt or do we build upwards and in even greater densities?"
Councillor Whiteside said the possibility of a high-rise development of around 200 apartments, which would be built in conjunction with any new cinema in Bricket Road, could ease the pressure but added that there would still have to be additional releases from the Green Belt.
A spokesman for the council said the figures were still under review and so were subject to change.
A final decision is expected from the EERA in the spring. Councillor Martin Frearson, a member of the district plan review steering group, said the figure could be revised upwards as well as downwards.
He said: "There is a consensus in the steering group that unless we keep Green Belt development to a minimum we will be faced with the creation of one suburban conurbation stretching from Watford to St Albans and through to Hatfield."
St Albans and Harpenden Review, 28.01.2004