Comments for FPD Savills
"Superb service. Excellent information on land developments provided by their research teams. I would recommend them in the future."
Clive Sommers - 11th January '05
"Savills are an international company. They have been around for a while and certainly know the property market well. They provide peace of mind."
Amir Rumjohn - 17th November '05
"The news section on their site is worth a look. It's always up to date and contains useful and interesting information. "
K. Chase - 8th October '05
"I am a little set in my ways and would always prefer to speak to someone face-to-face, rather than over the phone or via an email message. The beautiful thing about FPD Savills is that they still know how to communicate on a personal, direct manner. You can drop into one of their offices and they are always happy to help."
Mr D.C. James - 23rd September '05
"Janet, you always have the option of investigating any plot of land first before you make any decisions. Always check with the local authority concerning future developments they can provide you with details. You can buy land which already has planning permission. However, you should be aware that land such as this will always be of a higher value. Investment land is far cheaper but does not have immediate planning permission. It will depend on your budget and the type of investment you wish to make."
Douglas Montague, Self Build Consultant - 25th August'05
"I'm still not sure about investing in land. I think I might wait to see how the market develops. Planning permission is something that concerns me."
Janet Dean - 25th June '05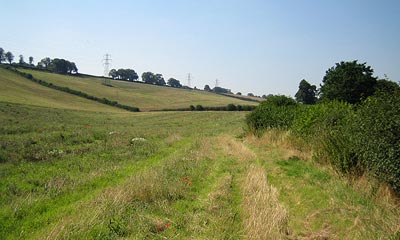 "I believe that their quality of service comes from their excellent staff who seem always ready to help you out, guide you through the buying process and answer questions you have, no matter how trivial they might seem. Well done!"
Mr P. Forthe - 3rd June '05
"As a developer I know full well how this market operates, the sort of service you should expect and who you should and shouldn't talk to. I recently decided to invest in land in the Leicestershire area. Unfortunately there seems to be a general lack of building plots in this locale. This said Savills had other land on their system, provided me details of other plots I might be interested in and rounded up with their usual high quality service - a service I have come to expect of FPD Savills."
Mathew Capon - 12th April '05
"Generally a satisfactory service, although I have found it hard to find exactly what I am looking for in the past."
Michael Clinwick - 30th February '05
" I would always put a company like Savills first as they are well known and well established as a successful property and land agent."
L. Swahali - 4th January '05
"My partner and I were looking to buy for the first time and looked around for months. Savills had a selection of beautiful newly built houses, so we decided to have a closer look and viewed some showhomes. Luckily money wasn't such a problem as with most first time buyers, and we eventually found our dream home, a 3 bedroom semi. Savills made the daunting task of first time buying quite an enjoyable experience."
Samantha Clarke - 14th December '04
"FPD Savills have a rural property search which is good. I found some 8 acres of rural land for sale in St Albans although the asking price was a bit high. "
Reena - 5th September '04
"Their website is everything you'd expect from an established company like FPD Savills - it's elegant and helpful. While the majoirt of their portfolio is houses, they also offer rural land in the UK for sale along with development potential opportunities."
Sol - 29th August '04
"FPD's had some UK development land for sale but I learned most of the land for sale was up north or in Scotland."
J Chohan - 14th August '04
"Nice property search facility on their site. They have some very attractive residential farm land for sale."
R. Patel - 9th August '04
"I was un-able to find an adequate plot for rural development on their database."
Phil White - 23rd July '04
"Very little development in the area so no chance of getting planning permission in the future. Decided to buy land in high development location. Cost is higher but it has more hope of getting PP for future self build projects."
Jason - 1st June '04
"Thanks for the advice Douglas! I'll definately speak to the local planning council. Jason - I'd be interested to hear why you decided to invest in land in the south east and not up here?"
Deborah - 27th May '04
" FPD Savills were selling investment land plots in West Yorkshire but we decided to invest in land in South East England."
Jason B - 25th May '04
"Hi Deborah, it's difficult to say. I would recommend you speak to an external body rather than directly to the land agents. Your local council would be a good place to start. If you do decided to buy investment land then make sure you use the services of a solicitor. Find out if / where / when they intend to erect future new developments . If you're seeking a long term investment then you would probably be wiser in buying land in an area the goverment intends to extend rapidly, such as Ashford or Milton Keynes. Best of luck!"
Douglas Montague, Self Build Consultant - 25th May '04
"I was considering buying some of their investment land in Yorkshire. Does anyone have any experience of buying investment land ? What chance would I have gaining planning permission in West Yorks?"
Deborah - 24th May '04
"Having acquired an area of equestrian land my wife and I are seeking to secure planning permission for a further stable block. FPD Savills put us through to their expert planning consultancy team and our application is now underway."
M. Shah - 2nd April '04
"We accepted a terrific offer for our land for sale using FPD Savills as principle agents. Expert advice and definately adept at promoting the land to the right people."
Mr & Mrs Thomas - 11th March '04
"Our family have invested into a farmland estate in Hampshire and are beginning converting the outbuildings. No problems so far."
J & A Miah - 3rd January '04
"FPD Savills have a very sound reputation, particularly in managing property. I have my property in Knightsbridge managed by them, with excellent service to protect my investment."
Audrey Bond - 15th Nov '03
"Helpful, friendly and extremely professional service. Excellent for those wanting a large quantity of development land anywhere in the UK!"
Morgan Hughes - 6 Sep '03
"I want to find a specialist in plots of land within the South East. Who should I try?"
P. Smith - 20 Aug '03
"Wide range of expertise was helpful for me choosing how to invest in some property in Hertfordshire."
Maureen Summers - 6 Jun '03
"They really seem to know about agricultural land disposal, helped me sell my farm in next to no time despite the current market climate!"
Jennifer Jacobs - 21 May '03
"They have some good, cheap farmland that I'm considering buying."
Frederick Knight - 14 Apr '03
"Savills seem to be the only ones that could help me acquire some industrial (warehouse) land for sale.excellent."
Elaine Mews - 12th Feb '03