Farmers cross the sea for cheaper land
NEARLY 400 years after the Plantation of Ireland, the Irish are seizing control of large tracts of land in Britain — but this time they're paying for it.
Britain's Royal Institute of Chartered Surveyors (RICS) has reported a "new phenomenon" of Irish buyers purchasing land both for investment and to farm, pushing up the price of large holdings in the British countryside.
British estate agents and auctioneers say that in some areas the price per acre of land has doubled in the past six months, often specifically because of Irish buyers.
Like Ireland in the 1600s, some local farmers have been priced out of the market entirely.
Peter Whelan, from Dublin's inner city, is about to become the absentee landlord of a tract of land on the Sussex-Kent border. He is buying a 57-acre property "because I can afford it", he said. He has no immediate plans to start farming, but says British farmland is simply a good deal.
"I heard about it from an auctioneer friend who was telling me about the bargains over there," said Whelan "It's affordable, at €550,000 for 57 acres, and in comparison with trying to buy land in Ireland, it's a fraction of the price.
"My bit of land is near a little town. One local over there runs markets and thinks it would be a great place to have one, and there's another guy who runs a garage out of it.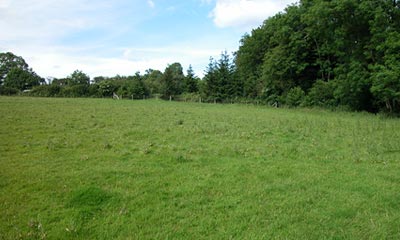 "In the long term we might apply for planning permission for a few houses. Plus the A21 will go through part of it, so there's a lot going on with it for a very affordable price."
Last year the average price of British farmland rose by 9%, the biggest increase the RICS has recorded since the first such survey in 1994.
The single-farm payment scheme, part of the EU common agricultural policy, sparked a rise in prices, it said, but the boom has been sustained by urban and Irish buyers.
Estate agents from leading firms in Scotland, the Midlands and southern England all said they had seen a noticeable surge of Irish buyers in the past 12 months, which they attribute to the fact that land in the UK often costs less than half its equivalent in Ireland.
Richard Brooks, the national director of farms and estates with Lane Fox estate agents in London, said he has seen a "surge" of Irish buyers of farmland around the UK in the past year.
"I saw it first in 2005 but now it's becoming much more common. We find they are looking for commercial farms and dairy-type farms. It has affected, particularly, the western and northern half of the country, with many looking for larger blocks of land of about 400 acres," he said.
Dougal Evans, of GM Thomson and Co, an estate agent in Dumfries and Galloway, Scotland, says nearby ferry services to Belfast and Larne have generated a steady trickle of Irish farmers for decades, but that this has increased in the past year.
"We have seen a steady migration over the years but in the last year it has turned into a flood. They are driving the market and they're just about buying everything. They're also targeting long-term prospects such as land close to villages. If they sit on it for maybe 10 years they can cash in on it when it's zoned for development.
"Before this happened it was up to £3,000 (€4,460) for an acre, but in the past year that has doubled. There are no locals in the market now."
Evans says farms are being "dressed up" to suit the demands of Irish farmers. "They don't want something that's too big, they want good land, not peat or rough ground."
Alan Cooke, chief executive of the Irish Auctioneers and Valuers Institute (IAVI), said Irish farmers "face fierce competition" at home and prices that make no sense.
"If you look at the more normal market in the UK, they feel they can get far greater acreage than they would here and up to 50% additional production at the same cost," Cooke said.
timesonline.co.uk, 13.08.2006