Conservatives now back building more homes in the country
The Conservatives softened their opposition to building on greenfield sites yesterday in an attempt to demonstrate their support for more affordable housing.
George Osborne, the Conservative Treasury spokesman and one of David Cameron's closest colleagues, made clear that the party wanted to show it cared as much for aspiring young couples seeking to buy their first home as it did for protecting the interests of established property owners.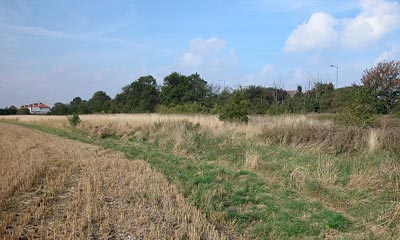 Mr Osborne said the Tories would look again at the planning system to tackle delays and obstruction and to look with "fresh eyes" at the development opportunities that existed. That would mean reviving decaying suburbs "as effectively as we have rejuvenated our city centres over the last two decades".
Mr Osborne said: "We should take a fresh look at what we mean by a greenfield site. Too often our current system protects the marginal scrubland because it is greenfield while at the same time lets precious urban spaces like gardens get built over because they are labelled brownfield."
Conservationists called his apparent U-turn "worrying" and recalled that at the last election the Tories vowed to oppose plans by John Prescott, the Deputy Prime Minister, to build thousands more homes in the South and to oppose building on the green belt.
Addressing a property conference in South Wales, Mr Osborne said the Tories should once again become the champions of a "home-owning democracy", recalling that the former Tory premier Harold Macmillan made his reputation by building homes for people in the 1950s, while Margaret Thatcher introduced the right to buy for council tenants.
"I want the modern Conservative Party to become again the champion of affordable and sustainable home ownership. I want us to be on the side of the first-time buyer, helping young families realise their dream of home-ownership," Mr Osborne said. Getting on the housing ladder was young families' biggest worry, he said. House prices had risen because the Government had not ensured supply kept up with demand.
He accused Labour of imposing "top-down housing targets" administered by unelected and unaccountable regional government, that would lead to the "wrong homes being built in the wrong places".
High eco-standards should be a part of the design of new housing to help meet climate change obligations, and there was a need to ensure that new housing did not impose impossible burdens on already stretched local infrastructure such as roads and schools.
Adam Sampson, the director of homelessness charity Shelter, said Mr Osborne's speech signalled a new and welcome political consensus on the critical need for more affordable homes to tackle Britain's housing crisis.
Shaun Spiers, the chief executive of the Campaign to Protect Rural England, said: "This was a very worrying speech. What we wanted was strong defence of a democratic planning system which protects our countryside and environment from massive housing sprawl while meeting society's housing needs. We didn't get it in this speech."
telegraph.co.uk, 09.02.2006