Lack of brownfield sites means homes must be built on town's Green Belt
GREEN BELT sites in Sawbridgeworth are going to have to be used for housing because there are too few brownfield plots in the town, district councillors have said.
Three areas were identified by East Herts District Council on Tuesday which it is proposed should be brought into the building equation.
They are past of the grounds of Leventhorpe School and adjoining Sawbridgeworth Sports Association at Cambridge Road and Crofters; a section near the River Story, east of Millfields and Lawrence Avenue and south of allotments' the the western part of the seasonal chalet-use Esbies Estate, west of the river and south of Station Road.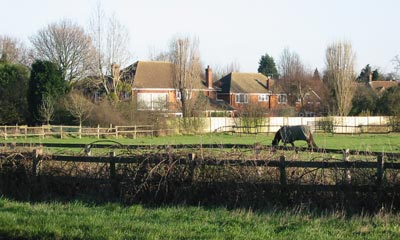 The recommendation to include those in the revised Local Plan for 1999-2011 was taken by an executive review panel this week. Members' view on changes to the proposed draft will go before anothing meeting in June.
It is proposed that Cambridge Road / Crofters can take 130 homes, of which 30 will be affordable; Millfields / Lawrence Avenue 20 (six affordable); and Esbies 25 (eight affordable).
An officer's report stated that based on the housing provision strategy, Sawbridgeworth had to accommodate 178 dwellings on sites capable of taking five or more units.
"Despite effort to limit the amount of greenfield landtake, the district council found little scope within Sawbridgeworth for further housing on previously developed, or brownfield, sites, or through urban regeneration.
"Therefore, some Green Belt sites have been allocated for residential development."
The report added that a flood risk assessment would be prepared for the Millfields area.
A comprehensive scheme to include the redevelopment of the western part of Esbies for low rise residential, coupled with the eastern part returning to open land, would enhance the environment, it said.
Herts & Essex Observer, 25.03.2004