Battle lines are drawn
Garden-grabbing is an emotionally charged issue to judge by your responses to the feature on it we published two weeks ago
Our article on garden-grabbing in Amberley, West Sussex (October 8: Battle lines are drawn) drew a huge response from readers that proved it is not a phenomenon confined to the southeast.
Many of the letters reveal dismay at the government's definition of brownfield sites, alarm at the way planning authorities apply the rules and revulsion at the type and style of properties being built by developers.
Perhaps a rethink of the planning process is needed, before towns and villages across Britain are reduced to bland uniformity. However, not everyone opposes the grabbers. Here is a selection of the letters we received.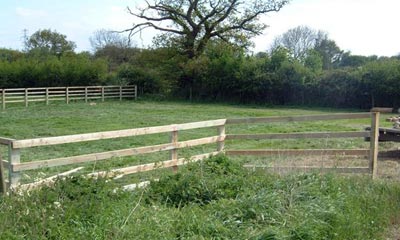 SHEER GREED: For almost three years we have been fighting garden-grabbers who intend to change the character of Farnham, on the Surrey/Hampshire border. In the space of 100m on one stretch of road, we have had three planning applications to turn family homes with gardens into blocks of flats. If a fourth home, bought by a developer three years ago, goes the same way, we could be facing upward of 52 flats where once there were four family homes. This is sheer greed! It has left the community in despair. The selfishness of the developers and the owners is beyond belief.
Pamela Woodward, Farnham
TOTAL DISREGARD: Winchester is suffering, too. My own home is threatened by a high-density development of up to 20 units in less than 50 acres on one boundary and another of four units in less than 10 acres on another. This is in an area previously denied even limited development due to its residential character, its open wooded landscape and its proximity to greenbelt land. Now it is deemed "urban" in nature.
The seemingly total disregard of those parts of PPG3 dealing with the impact of proposed developments on the quality of the existing residential environment and character gives the signal to developers that they should maximise densities by whatever means they can devise. As a result, Winchester is changing irreversibly.
John Bellchambers, Winchester
GRAVEYARD GRABBING: If you think garden-grabbing is bad, what about graveyard-grabbing? In Englefield Green in Surrey, Runnymede borough council has put up for sale (and is now considering a planning application for 32 houses) a piece of land inside the cemetery wall that they have declared surplus to requirements. All this in spite of a covenant placed on the land by the Crown Estate Commissioners stating: "The land shall not be used for any purpose than that of a cemetery . . ."
Local residents are horrified that loved ones will rest in peace at the bottom of someone's garden.
Alan Fone, chairman, Concerned Residents of Englefield Green, Surrey
LOOMING DEVELOPMENTS: Garden- grabbing may be essential in areas where housing is hard to come by. But I live in underpopulated Lincolnshire, where plenty of houses are for sale, yet, when gardens are developed, it's usually to provide upmarket, not affordable, housing. How about some incentives for people who do not turn their gardens into building sites? Garden-grabbing is also a disincentive to anyone, like us, looking to buy a house with a larger plot to cultivate — we can end up paying building land prices for a garden — and if our neighbours have similar- sized gardens, we must expect that eventually we will have developments looming over our garden.
Michael Stocks, Cherry Willingham, Lincolnshire
timesonline.co.uk, 08.10.2006